STATOP 704, the new temperature controller with 4 independent PID loops
STATOP 704, the new temperature controller with 4 independent PID loops
Equipped with the latest technological developments, the new STATOP 704 temperature controller with 4 PID loops and DIN-rail mounting offers a large number of simple, intuitive configurations.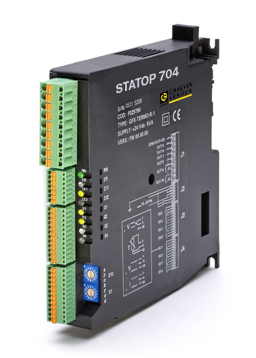 Designed for industrial processes, the STATOP 704 covers multiple applications: temperature and process control as well as multi-zone control. The STATOP 704 is a multi-loop control system capable of managing 4 process loops totally independently. Configuration of the I/O resources is quick and flexible thanks to a programming tool which helps users to select the right parameters.
An even more intuitive interface.
The interface of the STATOP 704 is similar to that of the STATOP 500 and 600 ADVANCE Series, which are simple and intuitive to set up. The STATOP 704 module can be configured by defining a few parameters. There are two different ways of doing this: by using the PYROtools software ou by using an operator terminal (industrial PC or PLC).
STATOP 704 advanced functions:
The STATOP 704 with 4 independent PID loops offers multiple features:
- 4 universal process inputs.
- 4 independent heat/cold PID loops.
- 4 auxiliary analog inputs.
- 4 configurable outputs: relay / logic / 3-phase AC / DC.
- 2 configurable relay outputs.
- 2 digital inputs.
The STATOP 704's combined features give access to extremely advanced control algorithms which optimize management of the process variables. The STATOP 704 is equipped with a function capable of providing an effective diagnosis of the control loop which helps to prevent possible failures, alongside the ordinary alarms.
A comprehensive offering meeting every requirement.
The STATOP 704 complements the the 500 and 600 Series in the temperature control range proposed by Pyrocontrole. This new generaiton of controllers comprising a total of 7 products (548 / 589 / 596 /648 / 689 / 696 / 704) offers full control and a solution for each requirement thanks to its advanced functions.