Case Studies
Control your temperature control loops in total safety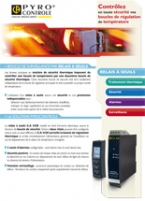 According to good thermal safety practices, a temperature loop must be controlled by a second thermal safety loop.
Discover how the PYROCONTROLE threshold relay C.A 3420 fulfills this function.
In-situ calibration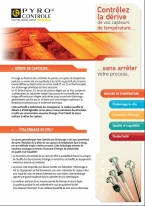 Find out how to check the drift of your temperature sensors without halting your process!
This method of verification by comparison is a patented solution developed by the experts at Pyrocontrole.
Temperature sensors for industrial incinerators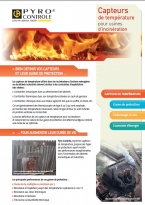 Discover the temperature sensors used in industrial incinerators
Temperature sensors for aluminium foundries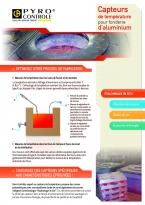 Discover our qualified temperature sensors for temperature measurement in melting and holding baths, as well as in hardening, annealing and stabilization furnaces.
These measurements are performed with K thermocouples.
Industrial supervision in the agri-food sector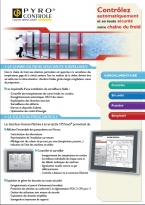 In the cold chain, particular care is taken to monitor the temperatures in order to guarantee healthy, safe conditions. All the links in the chain must be monitored with the same attention: cold rooms, larders, freezers, preparation areas, etc.
Discover the complete solution from Pyrocontrole, comprising a CPS Touch HMI with touch screeen, PDM I/O modules and Pt100 sensors.

Pyrocontrole proposes a global solution for monitoring the temperatures of your processes.
A comprehensive, adaptable solution comprising a digital temperature recorder and, depending on the application, several sensors such as the temperature sensor for penetrating in the foodstuff, for example, using a K thermocouple, or the Pt100 sensor for immersion in the bath to be controlled.
Download the document to find out more