Pyrocontrole raises the temperature for automatic pizza machines
Pyrocontrole raises the temperature for automatic pizza machines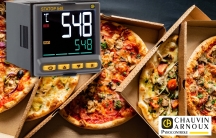 Thanks to partnerships with automatic pizza distributor manufacturers, Pyrocontrole, part of the Chauvin Arnoux Group, is helping to develop the concept of "pizza from a machine". Installed in cities, these self-service distributors provide delicious hot pizzas 24/7. In this machine, Pyrocontrole's STATOP temperature controller is the key to guaranteeing the precise cooking process you need to ensure top quality.
Once it has been taken from the cold room, the pizza undergoes fast, intensive cooking in a forced-air oven, supervised by our STATOP controller.
How long before the same principle is applied to French fries?
Develop your network of automatic distributors in partnership with Pyrocontrole => contact us