STATOP 600 Series: the new DUAL-LOOP PID controllers
STATOP 600 Series: the new DUAL-LOOP PID controllers
Particularly intuitive to use and equipped with the latest technological developments, the new 600 Series of DUAL-LOOP temperature controllers combines performance and simplicity.
ADVANCE Series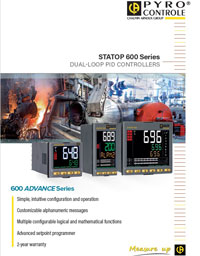 The STATOP 600 ADVANCE Series: the new generation of DUAL-LOOP temperature and process controllers designed for the most demanding industrial applications. The 600 Series comprises 3 models: STATOP 648 – 689 – 696, which differ in terms of their dimensions and the number of inputs and outputs (10 to 31). The main aim of the 600 ADVANCE Series is to control the temperature and other physical quantities (pressure, flow rate, etc.) in industrial processes.


Simple, intuitive configuration
Equipped with a simplified interface, these controllers can be set up in just 8 steps, directly using the keypad or using the PYROtools configuration software with a PC. For configuration of the STATOP 600 controllers, a clear, simple operator interface is provided, notably due to its backlit LED display. In addition, users have acces to advanced, customizable functions such as the setpoint programmer, the logical and mathematical blocks, timers, energy counters and alerts for preventive maintenance. These functions are configurable and can be saved and re-used for other applications. Developed around a smart display providing clear, accurate information about the process, such as the diagnosis, the alarms and the status of the process, the new 600 ADVANCE Series controllers are simple, quick and intuitive to use.



An advanced setpoint programmer
This new generation of DUAL-LOOP controllers offers functions which make them more than just controllers. Indeed, the STATOP 600 models can replace a small PLC or energy counter, thanks to their logical and mathematical blocks and their counting functions. Equipped with an internal energy counter, the models in the STATOP 600 Series calculate and indicate the energy consumption on the process being controlled in kW and/or financial units (euros, dollars, etc.) which helps to control costs. They are also equipped with the PYROtools software, which helps users to set up an extended configuration, create working recipes and upgrade the controller's firmware via a PC, without having to power the controllers.

Request a quotation