Come and test the new C.A 6530 industrial data logger
Come and test the new C.A 6530 industrial data logger
CA PYROCONTROLE presents its new C.A 6530 data logger to keep an eye on your temperatures and process data at all times!
At the Industrial Analysis Exhbitionon 5th and 6th February 2019 at La Défense in Paris (France), CA PYROCONTROLE is presenting its brand new C.A 6530 data logger.
Take this opportunity to handle and test this paperless graphical data logger. A company representative will be there to demonstrate it for you.

A more powerful data logger to complete the PYROTRACER range

Faster recording speed,
Stronger data security,
Customized configuration
Intuitive operation
Multiple recording channels
Data accessibility on site and/or remotely. Major advantages for optimum results in the field!
The PYROTRACER C.A 6500 range comprises three data loggers to meet every requirement and suit every budget. Depending on the model, the recording capabilities may extend up to 144 channels with a sampling interval of 100 ms per channel, which is ideal for the most demanding applications. For fully intuitive use, these data loggers are parameterizable, so they can be adapted to each customer's industrial environment. Users can recreate their application with the Panel STUDIO software. The screens customized in this way enable you to view all or part of the installation on the data logger.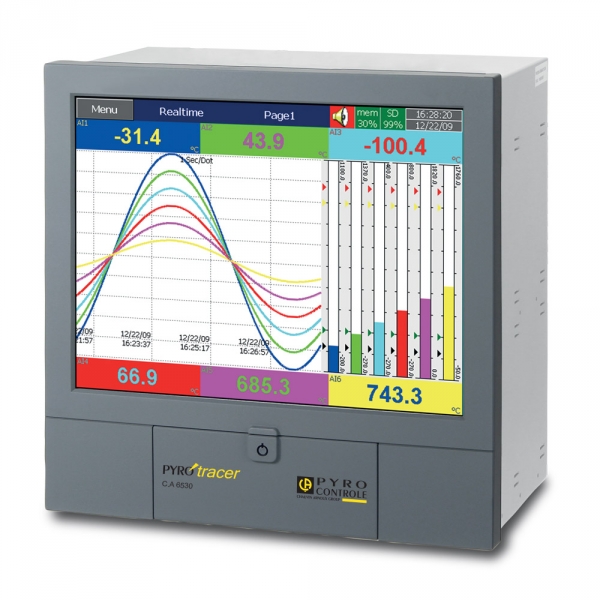 Configurable as a simple stand-alone unit for distinct data acquisition applications, the C.A 6500 data loggers can also be set up in Master communication mode for the supervision of an entire installation. This configuration lets you take advantage of the data logger's performance features (secure data storage, supervision on touch screen, remote-viewable data, etc.).
Particularly compact with a depth of just 170 mm, the C.A 6500 data loggers can be flush-mounted in a cabinet very easily. Depending on the applications, a portable version with a handle is also available, making it easy to carry in workshops or on outdoor sites.
Main applications for the C.A 6500 data loggers

Thermal treatment
Pharmacy
Agri-food
Health
Laboratory
Water treatment
Chemistry